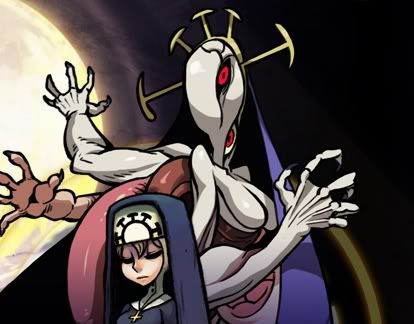 It's been a long time coming, but soon the beautiful indie fighter Skullgirls will finally see release, and the first step toward completion comes with the revelation of the final character.
Double
is a mysterious entity that often takes on the deceptive guise of a smiling Catholic nun, but her true form is that of a mass of flesh and organs. Double is able to take on many shapes and forms and naturally this reflects in her gameplay, most notably when she assumes the form of another character and uses modified (and unseen) moves.
Gametrailers
was quick to the draw as Mike Z has already compiled a walkthrough detailing this interesting character.
Part 1
goes over all the general stuff including movement and normals. While
Part 2
focuses more on her specials and supers, and their applications.
As mentioned in the beginning of the segment this was running on the final build of the game, which means the release date and pricing will soon be upon us. It's time to see what over a decade of blood, sweat, and tears can achieve.