THIS IS NOT A PERSONAL CHART.
THIS IS A CHART BY THE COMMUNITY, FOR THE COMMUNITY.

PLEASE READ THE FOLLOWING.
The purpose of this thread is to discuss BB:CS match-ups in a mature manner so as to fill out a chart with accurate ratios for the benefit of the community.
I gathered information from the closest thing to a prior match-up chart (arcadia's magazine chart) and tried to interpret the disagreements as best as I could.
BUT!
That doesn't mean my views are correct, nor does it mean Arcadia is entirely correct, either, which is why I bring this chart to you, the community.
I request any and all knowledgeable players to help clear up misunderstandings and correct incorrect match-ups. You don't have to be good at the game to be knowledgeable, but more experienced players are more likely to be knowledgeable than less experienced players.

BlazBlue: Continuum Shift
Version 1.01
16 Characters

Match-Up Chart - 2010.11.02




The following chart counts how many kinds of match-ups each character has. This is used to break ties.

T.G.M = Total Good Match-Ups
T.E.M. = Total Even Match-Ups
T.B.M. = Total Bad Match-Ups

"Even" means "all even match-ups not including the mirror."

Distribution Chart - 2010.11.02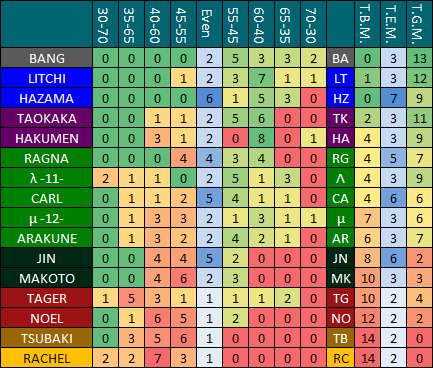 Previous Match-Up Charts for older versions
The rest of this post will act like a FAQ as I'm fairly certain most people on DL know what a match-up chart means.
Each match-up is determined by weighing each character's abilities and what they can do to each other assuming the two players are of equal skill level at high level play. This means that we assume that both players know of every single match-up and play each match-up in the most optimal way to win.


The match-ups shown are when two characters play 10 rounds against each other to see how many games each character would win. The number is multiplied by 10 to eliminate decimals (so 6.5-3.5 would be 65-35).


The Rating system has been changed.
The rating is now determined by the average of all of a character's match-ups not including the mirror match.


Groups of characters on this chart are divided by uncommon large differences between two adjacent characters. This number can change from chart to chart, but will always be apparent. This is merely to make it easier to read the chart.


The "Difference" column shows the difference between the character beside the number and the character above the number. Bang has no one above him so he has no difference.


How to read the chart: http://www.dustloop....41&postcount=66
Feel free to PM me if you have any questions not answered on this post.
Also, feel free to PM me a message with your MSN or Skype if you want to discuss anything in real-time.
Edited by worldjem7, 05 November 2010 - 02:47 AM.